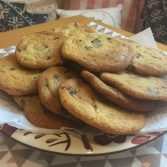 Chocolate Chip Cookies
This recipe's origin was never that of a chocolate chip cookie, at least I don't think my grandmother ever used it in this way. Her original recipe was for a plain crumbly nut biscuit which I seem to recall eating when I was young. Her recipe called for half butter half lard proportions which I amended solely to all butter, and hers used normal granulated sugar which, after trying various permutations, I have changed and substituted for dark and castor sugar, although her idea of adding nuts has a lot of merit.
The basic biscuit can be used plain, or the chocolate chips can be substituted for nuts, white chocolate chips, white chocolate chips and strawberries or raspberries… hmmm your imagination is endless!! As long as you keep the basic proportions in mind, and try not to add too many wet (fresh fruit tends to be moist) ingredients to your biscuit you should be ok.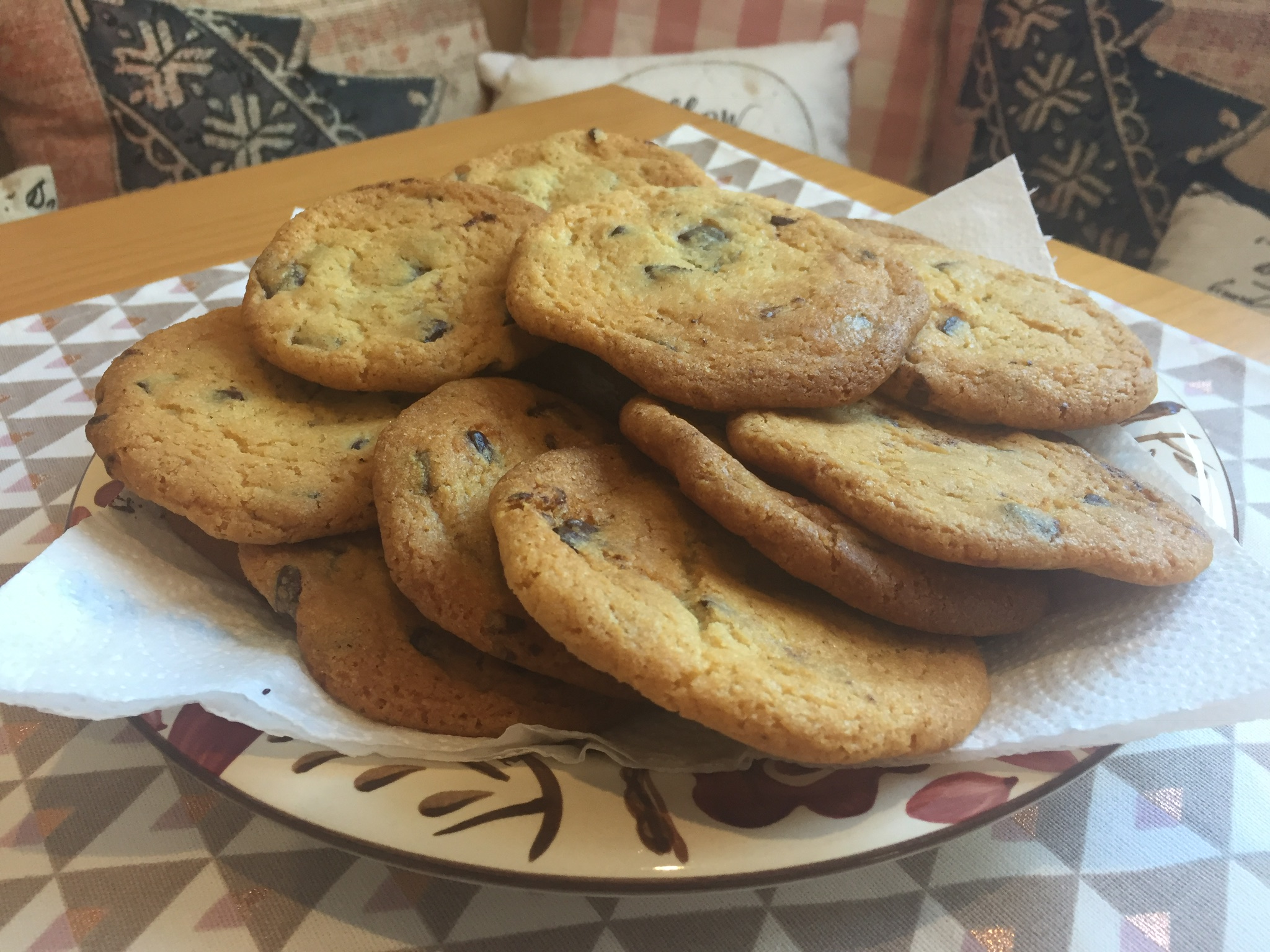 Ingredients
4 Oz's – ½ cup – 100g unsalted butter at room temperature, softened.
4 Oz's – ½ cup – 100g Dark soft brown sugar.
4 Oz's – ½ cup – 100g Castor sugar. I store this in a container with a vanilla pod to give this some extra flavour.
1 egg also at room temperature.
1 teaspoon Vanilla essence.
1 teaspoon baking powder
10 Oz's – 1 ¼ cup – 250g Self Raising Flour.
12 Oz's – 1 ½ cup – 300g chocolate chips. I use a mix of chips and chunks, but this entirely up to your own preference. If you are substituting for nuts, then I would go with 1 ¼ cups as the chocolate will melt in the biscuits but the nuts will not. But once again this is entirely up to you.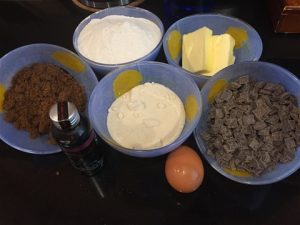 The Basic Ingredients
Instructions
1
Cream the butter and sugars until these form a soft crumbly paste. TIP Your butter really needs to be at room temperature to do this right.
2
Add in the vanilla essence and egg and beat to combine.
3
Then sift in the flour, and baking powder and mix to combine. Don't over mix at this stage, just beat until the flour is absorbed.
4
Finally add in the chocolate chips (or whatever ingredient you are trying out) and fold in to thoroughly distribute.
5
What your final dough should look like. Crumbly but easily held together when squashed.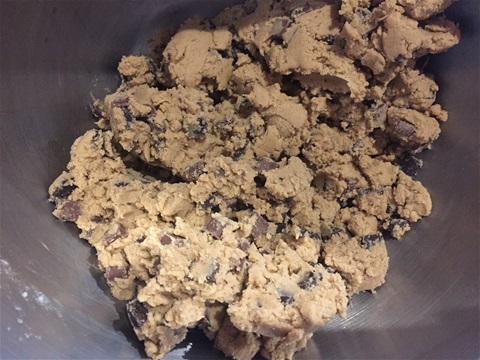 6
Grease or line a baking tray, and roll out your dough into rounds (same as when you are making meatballs…. Basically, you are looking to make dough meatballs). You need to place them at least a couple of inches apart so that they spread whilst cooking.
7
I normally place mine in the fridge at this stage whilst the oven is preheating to 180 degrees. Another tip is to wrap the baking tray in cling film, and freeze your dough at this stage. Once frozen you can store in a zip lock bag for up to three months. Just defrost for some 20 mins and then bake as instructed below. The perfect treat for unexpected company at any time.
8
Before baking, squash the dough down, until you have flatter rounds (this will help with the spreading and even cooking of the dough). Then bake somewhere between 8 to 12 minutes. You can tell that they are done when the outside crust is golden brown but the cookie is still soft and gooey to the touch in the centre.
9
I let mine cool for some 5 minutes in the tray, then transfer them to a wire rack to fully cool down. They never last that long.
10
Now before placing into the oven squash the balls down to flatten (not too flat though)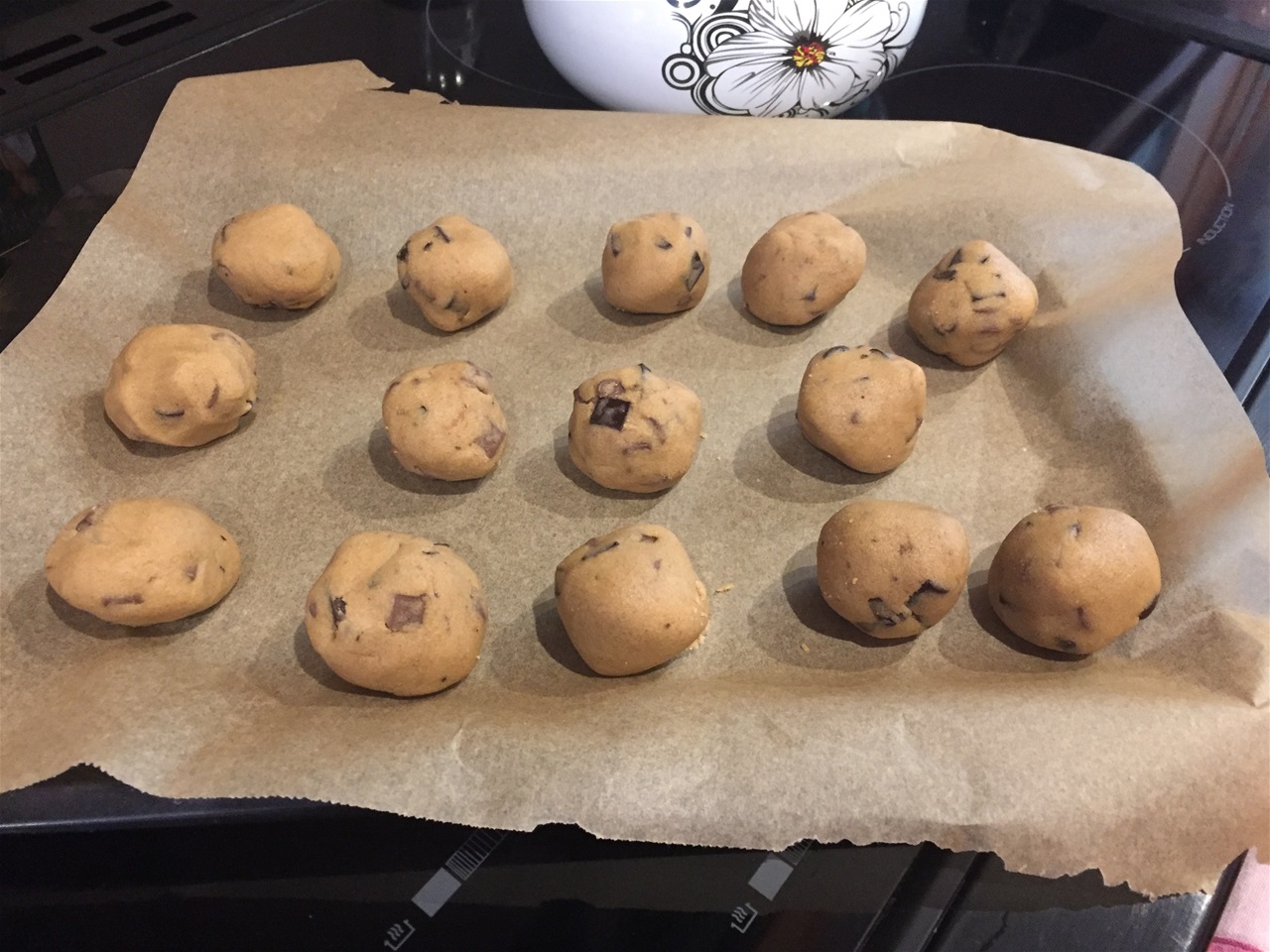 11
After 10 minutes this is what they should look like. Just allow to cool and dig in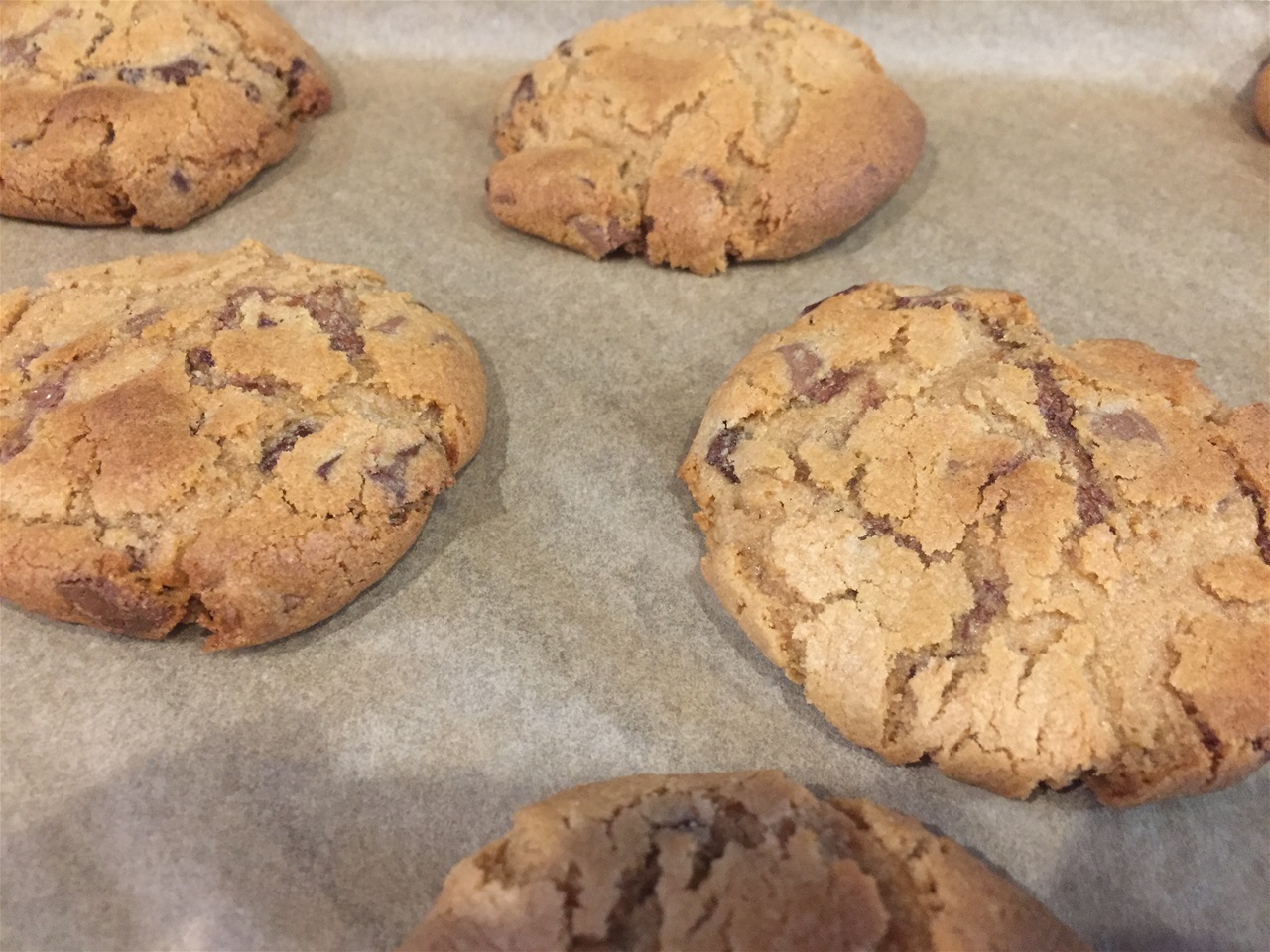 12
BEST EVER Chocolate Chip cookies at the Cosy Kitchen Corner. Enjoy!