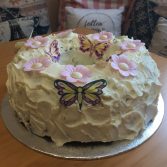 Erin's Carrot Cake
Erin is this little five-year-old girl I know, who loves to come and bake with me. Since she's not too keen on chocolates her favourite cake, which we make either as a cake or as cupcakes, is this version of an old family favourite carrot cake recipe.
This recipe is a merged version of an old Betty Crocker recipe and a version given to me by a colleague several years ago. Erin's mum asked me to make this cake for her birthday, so I spruced it up a bit and decorated it more in lines with the occasion and ended up with the cover photo version. Not the traditional look for a carrot cake, but just as delicious anyway. I hope you enjoy making this just as much as Erin does, and with Easter coming up soon, this cake is bound to be the perfect recipe for your Easter tea table.
[Note] I doubled my quantities to make a larger cake
As I wanted to make a larger cake, I doubled my quantities and made a Bundt tin version, which took some 45 mins to bake. I had to cover the top of the tin with foil after 30 mins so that the top would not brown too much.
I also halved my cake and spread some of the frosting in the centre and sandwiched it back again before frosting and decorating.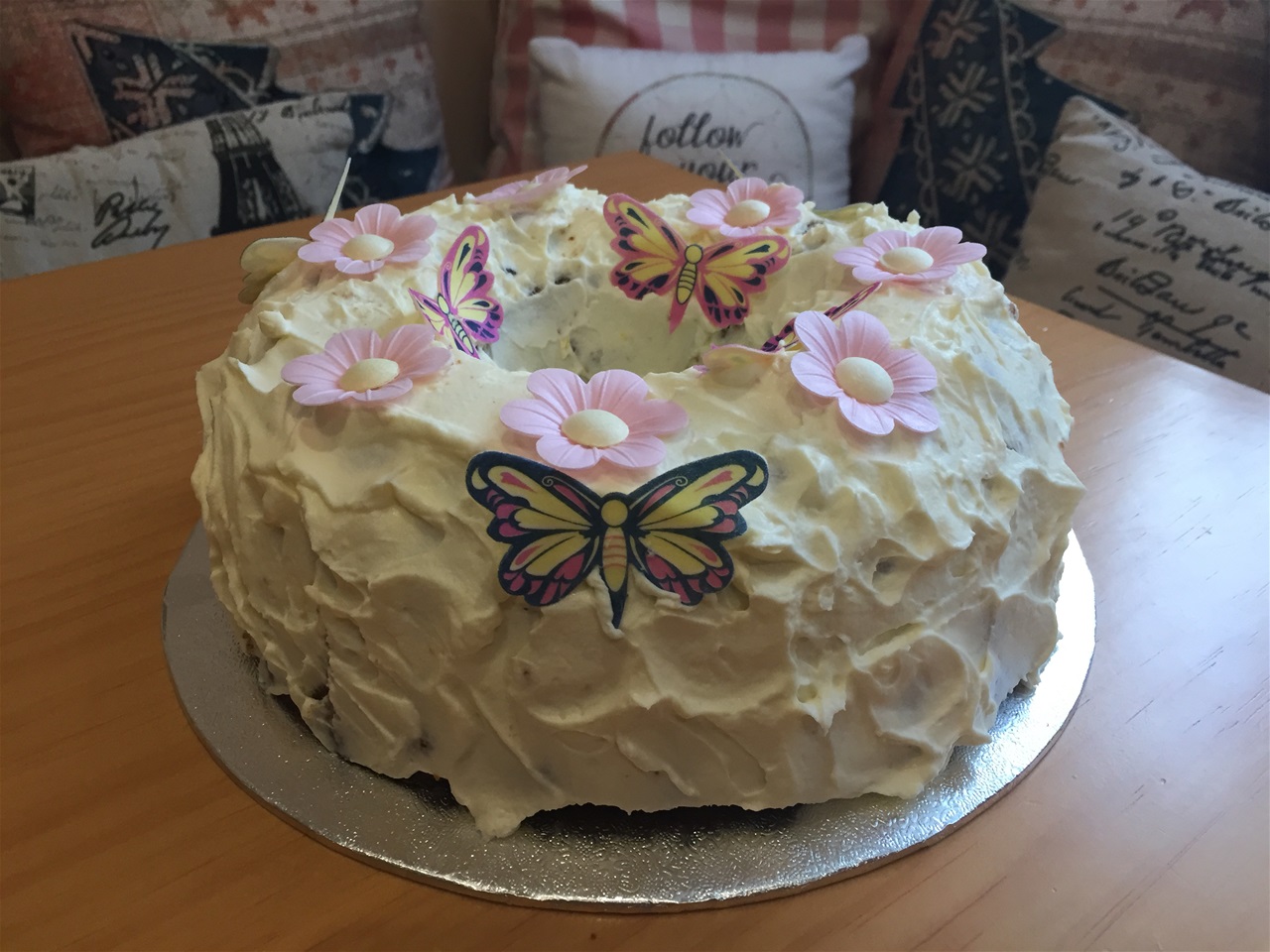 Ingredients
For the batter:
7 oz. Sunflower Oil (or any flavourless oil)
8 oz. Castor Sugar
3 eggs
6oz. Self-Raising flour
½ teaspoon Baking Powder
1 teaspoon mixed spice
1 teaspoon Cinnamon powder
1 teaspoon Nutmeg
8 oz. finely grated carrots
2 oz. Raisins
2 oz. Walnuts
For the icing:
8 oz. Cream cheese – I used mascarpone
6 oz. whipping cream
½ cup – 2 ¼ oz. Icing sugar
Zest of a lemon
Juice of 1/2 a lemon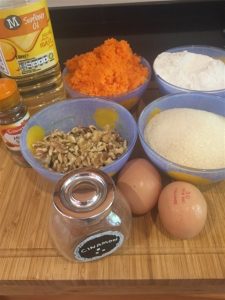 Make sure you have everything ready before you begin putting your batter together
Instructions
1
Line a shallow tin cake with grease-proof paper.
2
Pre-heat your oven to 180 degrees.
3
In a bowl whisk oil, sugar and eggs until soft, creamy and pale yellow in colour.
4
Stir in grated carrots, nuts and raisins, then the flour, baking powder and spices, sifted to avoid clumps.
5
I use the aluminum disposable tins. Why complicate your life?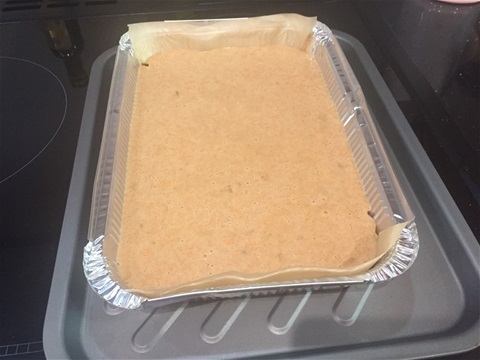 6
Pour into the mould and bake in the pre-heated over for 23 – 30 minutes. Or until a toothpick inserted in the centre comes out clean.
7
Allow to cool for some 10 minutes in the tray, then turn and finish cooling on a wire rack.
8
Cool on a wire rack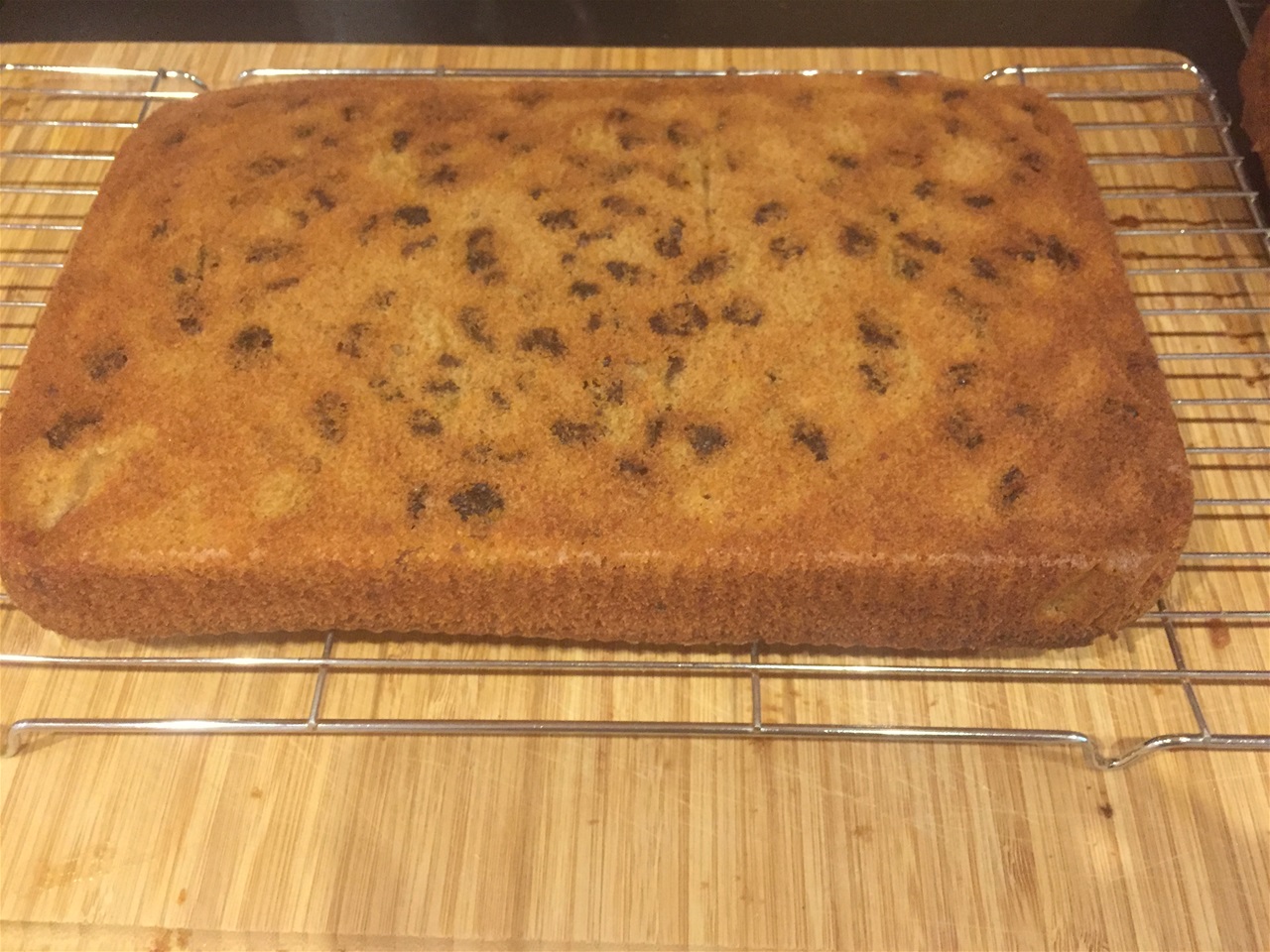 9
Meanwhile prepare your frosting by Whisking your cream cheese until it is nice and soft (3 mins)
10
Then add the whipping cream, and continue whisking until the cream doubles in size.
11
Add in the icing sugar, lemon zest and whisk again.
12
Finally add the lemon juice in gradually until you obtain the consistency you wish.
13
Cover the cake in frosting. Place in the fridge , until ready to eat.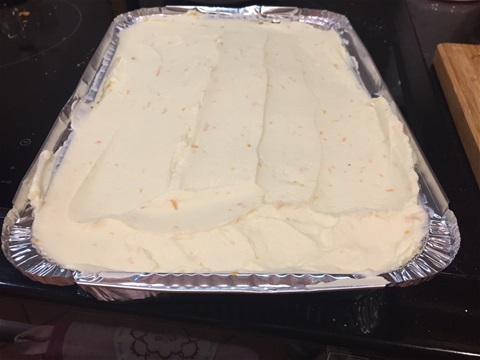 14
Erin's Carrot cake birthday treat made with loads of love at the Cosy Kitchen Corner