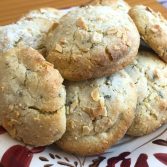 LEMON BASIL BISCUITS
This was not one of my grandmother's recipes, but rather a mention in one of my Victorian regency novels. The fact that Victorian ladies sat have lemon basil biscuits for their tea in my romance book fascinated me, so I delved into historical recipe books on line, and adapted the original recipe  to my own tastes.
The result are biscuits with the enticing scents of Lemon and Basil which will transport you to the Mediterranean, the combination of flavours  are unique and intriguing, but because of the addition of  sugar these biscuits are sweet whilst at the same time titillating your palate with savoury and lemony hints.
These biscuits are, in my humble opinion, the epitome of summer time scents and taste.
Give them a try. I hope you enjoy them.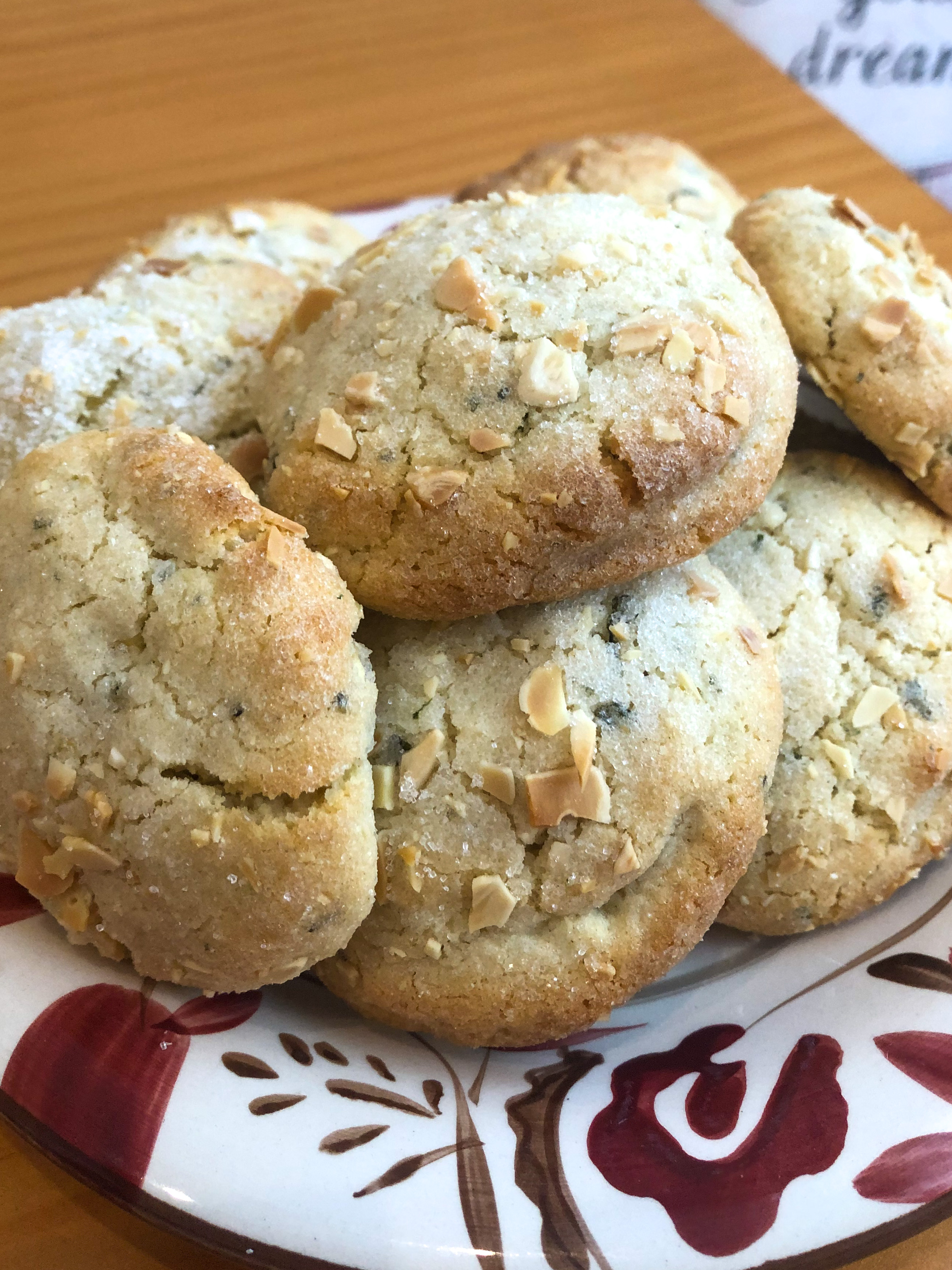 Ingredients
9 ounces (2 cups) Plain flour
1/2 teaspoon baking powder
1/2 teaspoon salt
6 ounces (3/4 cup) softened unsalted butter
6 ounces (3/4 cup) granulated sugar
1 egg
1 tablespoon Grated lemon zest
2 tablespoon fresh lemon juice
1/3 cup chopped basil
2 ounces (1/3 cup) shelled pistachos or slivered almonds. These need to be chopped up into small chunks either by hand or in a food processor.
3 tablespoons granulated sugar for coating
Instructions
1
Mix the Flour, baking powder and salt in a bowl and set aside.
2
In a large bowl cream the butter thoroughly, add the sugar and continue to mix.
3
Add in the egg mixing until just combined, then add in the lemon zest, lemon juice, basil and 2 tablespoons of either the chopped Pistachios or Almonds. Mix to incorporate.
4
Add the dry ingredients into the wet ingredients in two additions. Mix well. Form the resulting dough (which will be soft and a bit sticky) into a flattened disc. Cover with cling film and chill for a hour in the fridge (or 20 mins in the freezer, if you are short on time).
5
Whilst the dough is chilling, preheat the oven to 160 C fan or 180 C convection. Chop the nuts into small chunks (if you've not already done so) and mix with the 3 tablespoons of sugar in a soup plate or bowl.
6
When the dough is chilled, shape it into small balls (around 1 tablespoon each). Roll the balls in the sugar/nut mix and place onto a lined baking tray. Leave some space in between as the mix will grow.
7
Bake for 12 - 15 minutes, biscuits should be firm to the touch and slightly browned on the outside. Leave to cool slightly on the baking tray before transferring and cooling completely on a Wire rack. NOTE: These biscuits can be stored in an airtight tin for around 4-5 days.
8
There you go, Mediterranean Lemon Basil biscuits cosykitchencorner style. Mmm Yums