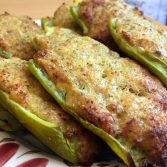 Baked Stuffed Courgettes (Calabacines Rellenos)
These little courgette bites are a Gibraltarian traditional dish.
Every household has their own version, which will range from adding spices to titillate  your taste-buds, through to a completely vegetarian option. Whichever, I can guarantee that you will be pleasantly surprised by the taste of these little boats filled with goodness.
My version, once again, handed down by my grandmother, has been baked in the oven, but you can always fry them up, with the certainty that however you decide to finish them off, you will be left with what will surely become a favourite.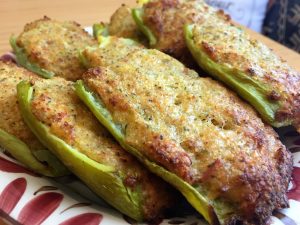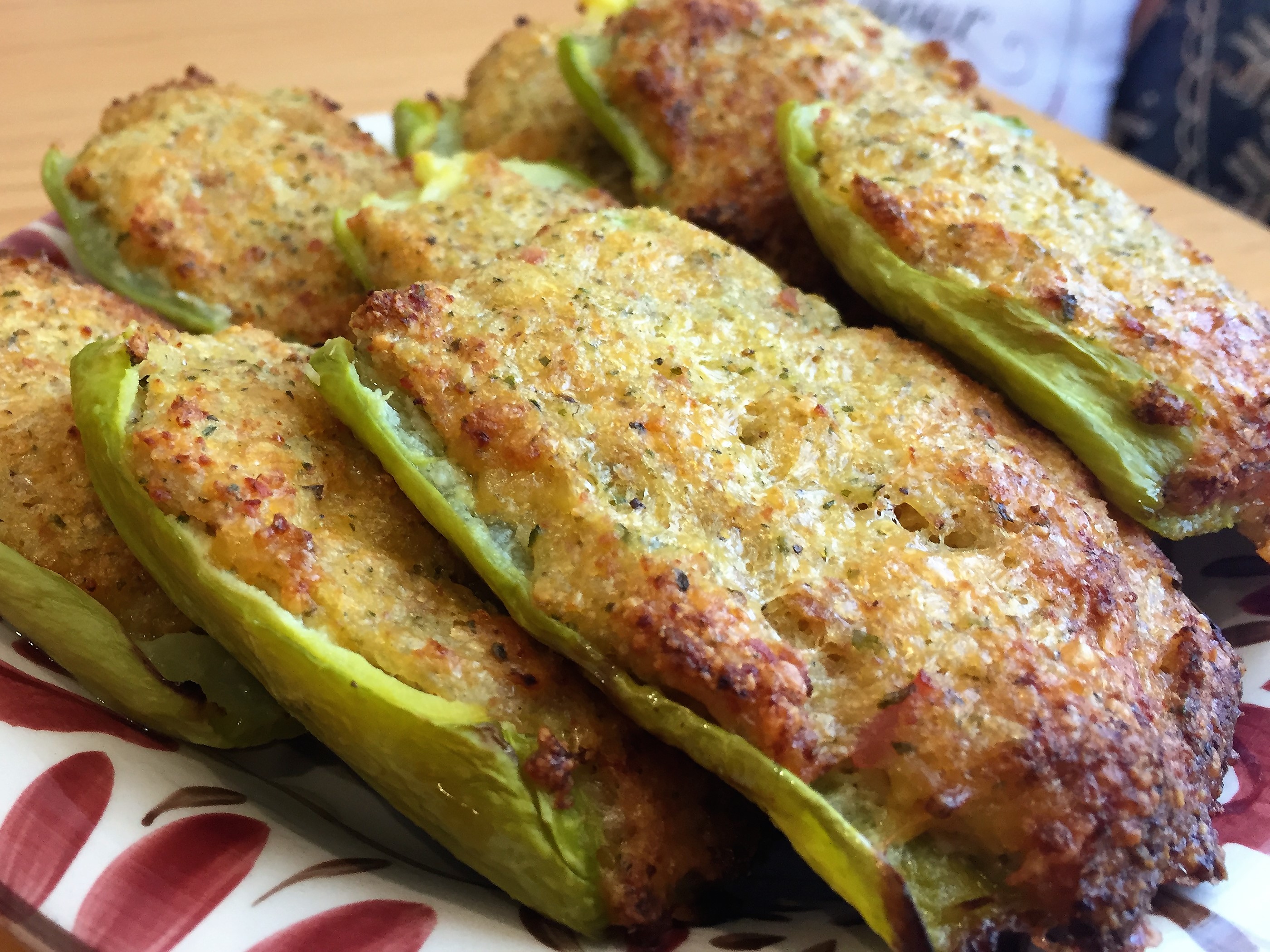 Ingredients
4 Big Courgettes around 150 - 200gr each
200g grated cheese – I used Edam the hard variety
100g finely chopped ham (I used my food processor)
2 Cloves garlic
2 tablespoon chopped parsley (fresh is always better)
56 gr fresh bread – around 2 slices
1 teaspoon Marjoram
2 Eggs beaten
Olive Oil for drizzling
Instructions
1
Pre heat your oven to 180 degrees. Start by halving and quartering your courgettes. Bring a pan of salted water to the boil, and add courgettes. Boil for around some 15 minutes, or until a toothpick inserted into the flesh goes in smoothly. If you under cook you won't be able to scoop the inside flesh out easily but if you over cook then they will crumble up on you. So, keep an eye on them.
2
Once cooked carefully scoop into a colander and allow to cool and drain in this. When cool enough to touch, scoop the insides into a muslin cloth, making sure that the courgette skin left behind has enough pulp to hold its shape. Squeeze as much water out of the courgette pulp as you can and set aside. Place the courgette "shells" on top of a clean kitchen cloth, and allow to drain and dry.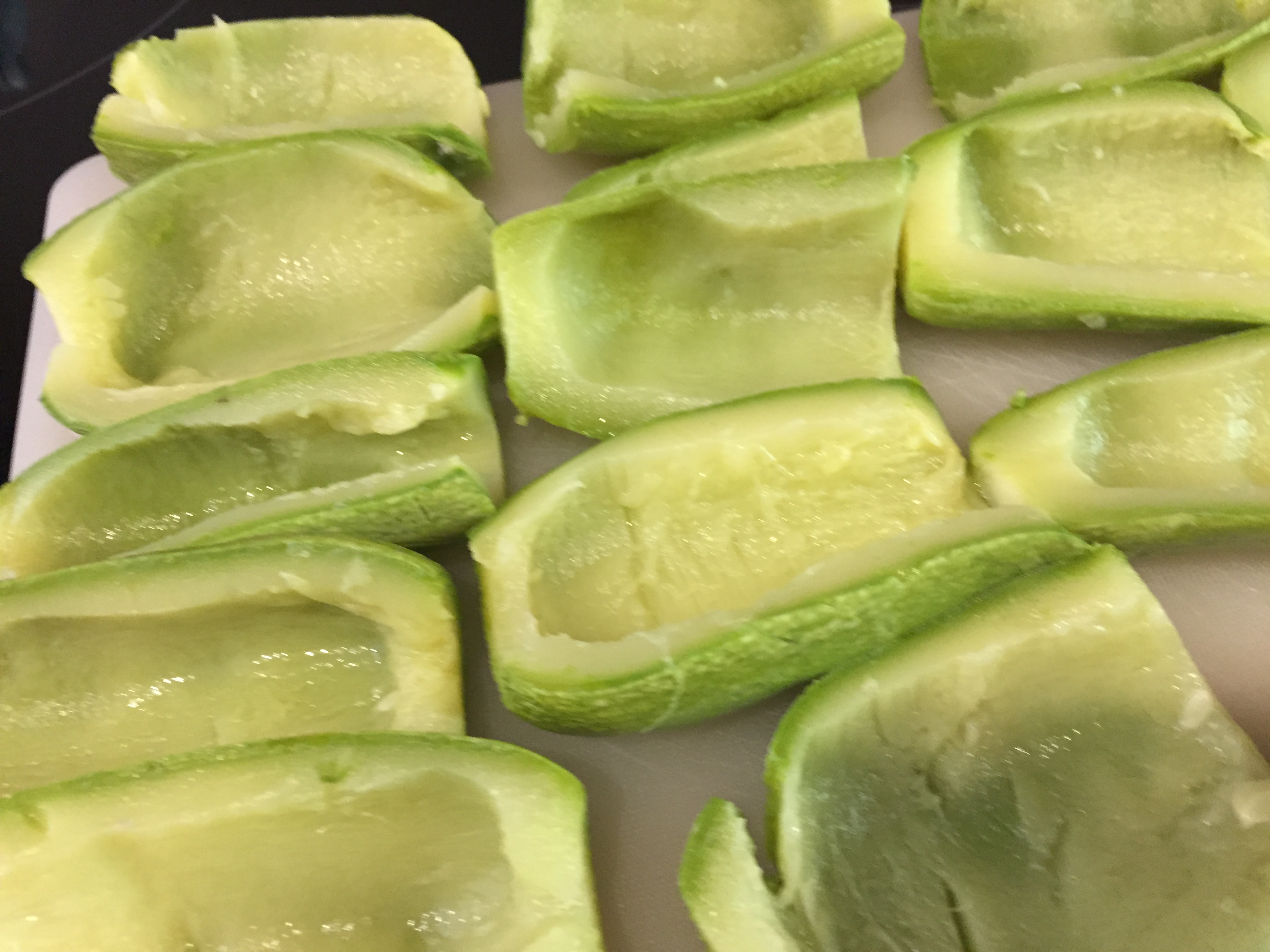 3
In a food processor, chop the ham, garlic and parsley together. Add in the bread – broken into pieces- marjoram, and finally the grated cheese. Add the courgette pulp and blitz, then add the two eggs and blitz to combine. Remove the blade from the food processor and mix the ingredients together using a spoon. If the mixture is too thick and dry add in a little Olive oil to loosen up.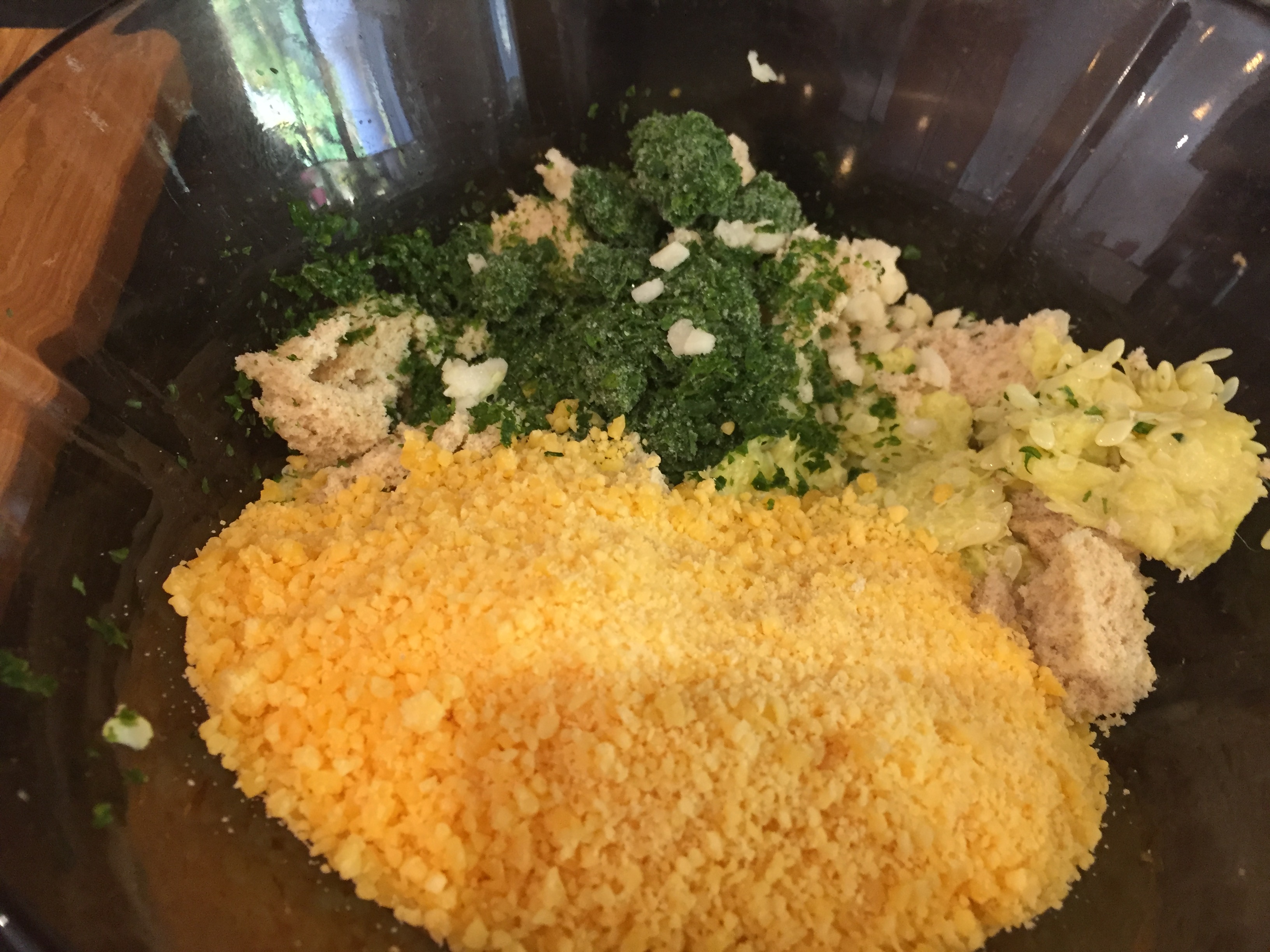 4
Check the courgette "shells" are dry, if not dab them lightly with kitchen roll to remove excess moisture. Take a tablespoon of the mixture and fill the courgettes molding with your hands if needed to help them keep their shape.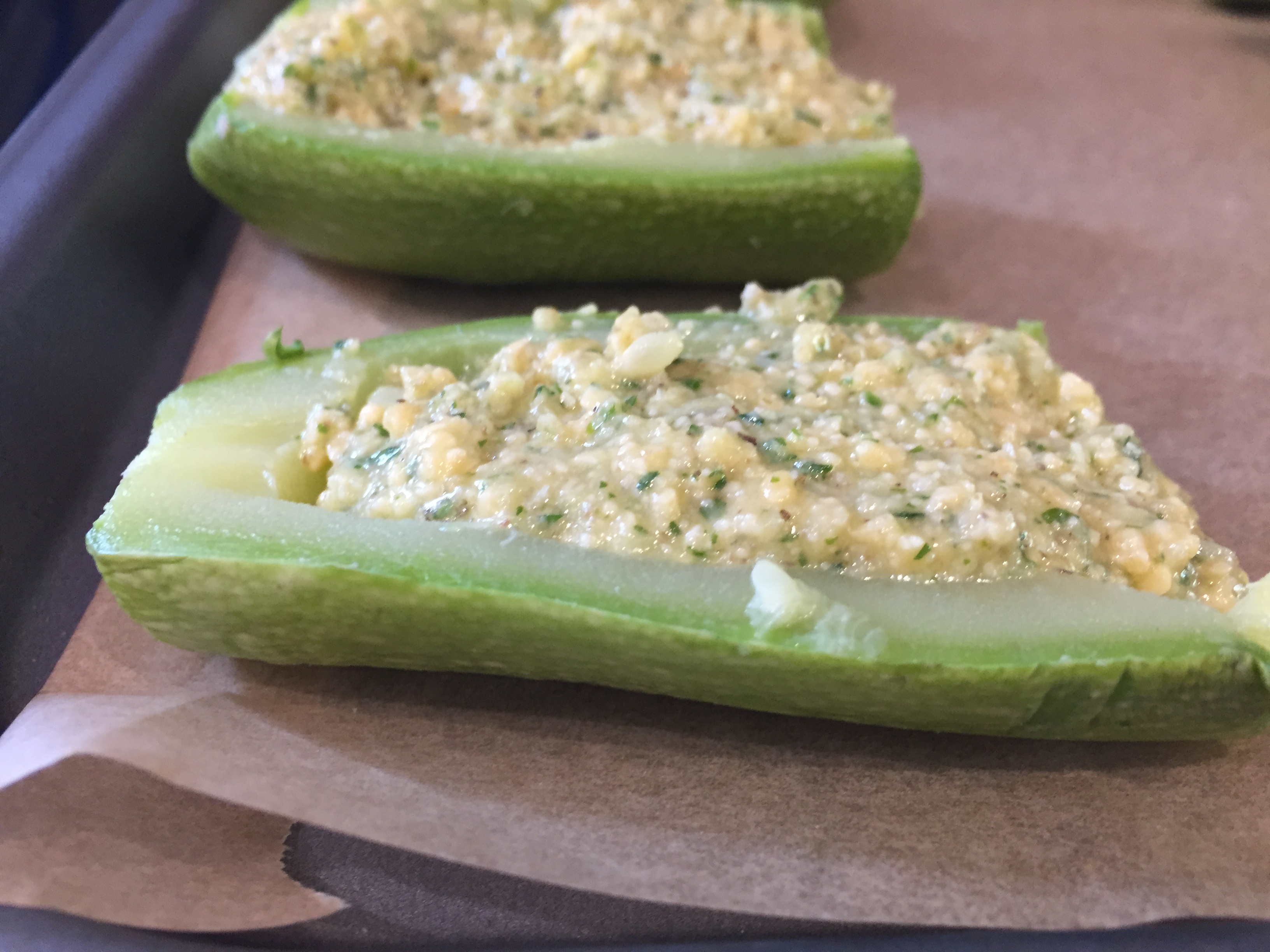 5
Place on a baking sheet lined with baking parchment, or grease-proof paper. Before baking drizzle a little Olive oil over all the courgettes, then bake for around 20 to 25 minutes. You know they are done when they are solid to the touch and have taken on a golden hue.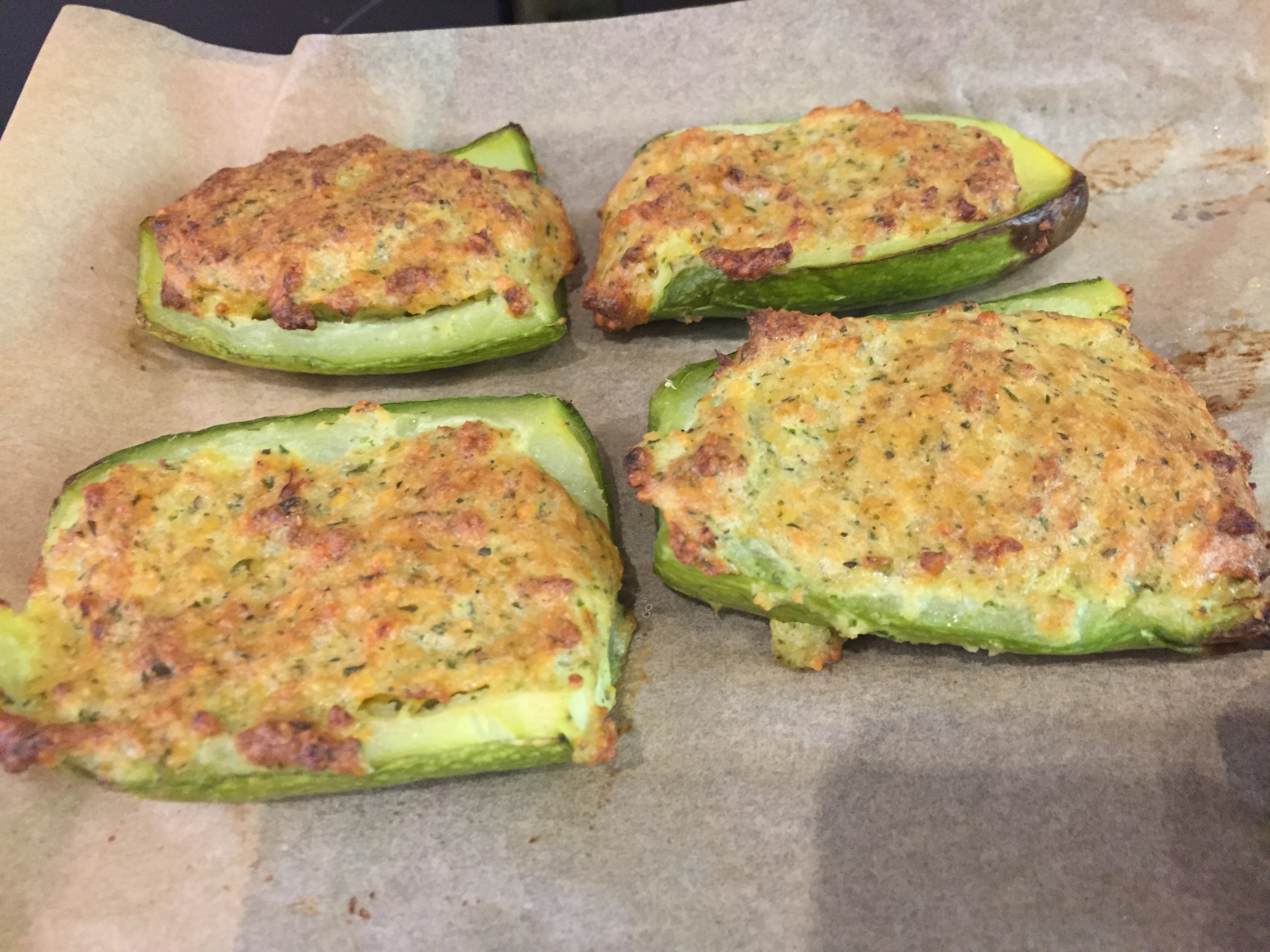 6
Baked stuffed courgettes served at the CosyKitchenCorner