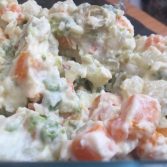 Olivier's Salad – Ensaladilla Rusa
Probably every home in Gibraltar has their own version of this versatile and easy to make salad. My Grandmother was not going to be an exception! The traditional Salad did not have peas incorporated into it, and neither did it have olives, but as with everything in life, we tend to adopt and adapt things to suit us best, and once again my Grandmother hit the nail on the head, and came up with a combination that is slightly reminiscent of the Heinz 57 vegetable salad that used to be sold when I was young, and was loved  by everyone I knew.
The secret to this recipe, apart from the best ingredients possible, is to not overcook the vegetables, as they will crumble and lose their texture. Soft but firm is what you are looking for, and of course, make your own Mayonnaise – since you made everything fresh, why not this as well?
Whatever you end up adding to it, whether you use tuna, olives, peas or not, this salad will grace your table and will not only look good, but will taste divine, and will easily complement any dish you serve.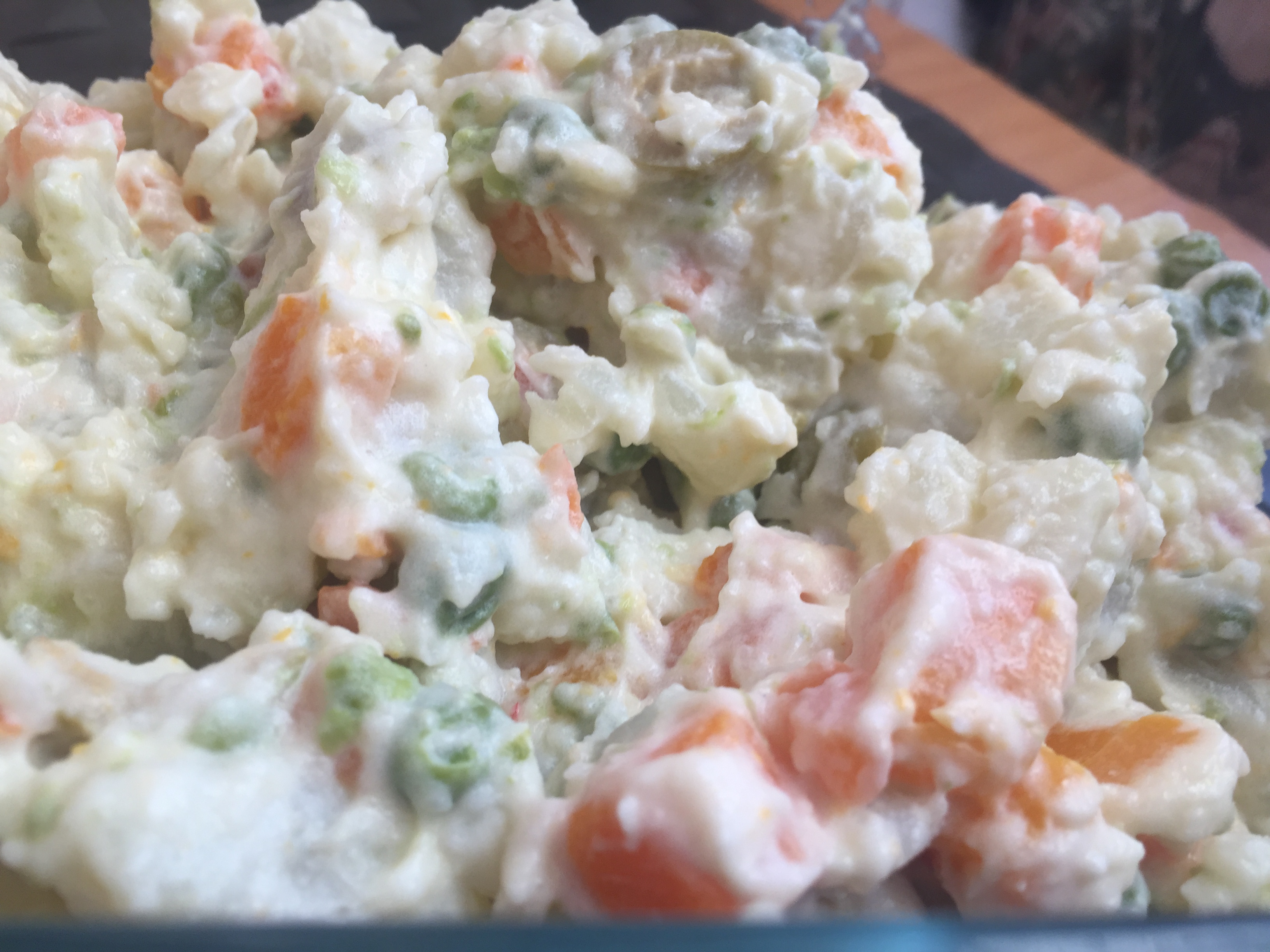 Ingredients
4 large potatoes - around 150 - 200 gr each
4 large carrots - one per potato
Frozen peas - around 150 gr (add more if you like)
4 Eggs - at room temperature as you are going to hard boil them, and they will split less if you do this.
1 tin pitted olives - either stuffed with peppers or anchovies.
2 tins Tuna in brine and drained
FOR THE MAYONAISE
2 eggs - best at room temperature
Olive oil - The best you can get
Juice of half a lemon
Salt
Instructions
1
Wash your Carrots, Potatoes, and rinse your Eggs.
2
Peel your halve your potatoes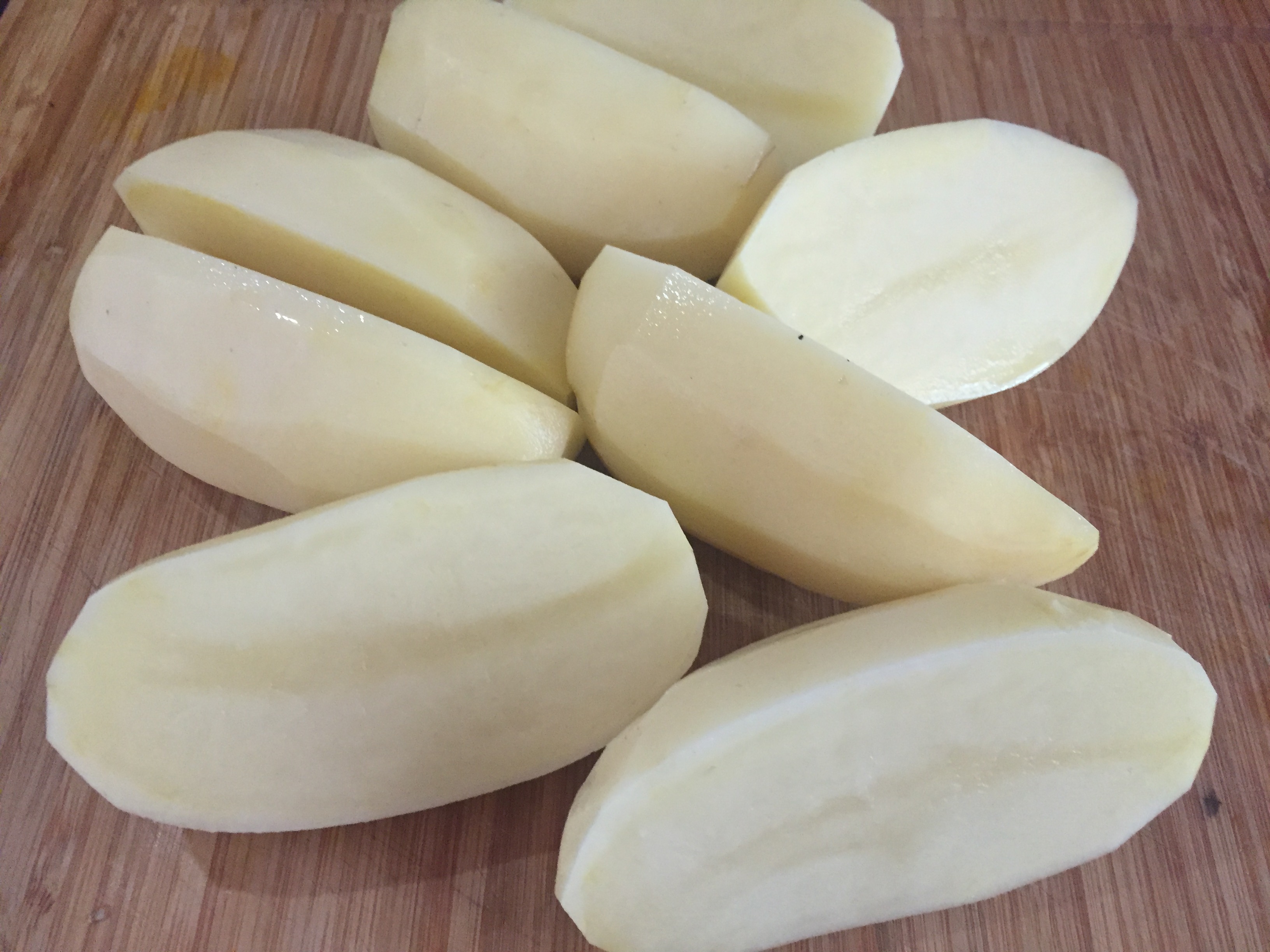 3
Peel and quarter your carrots.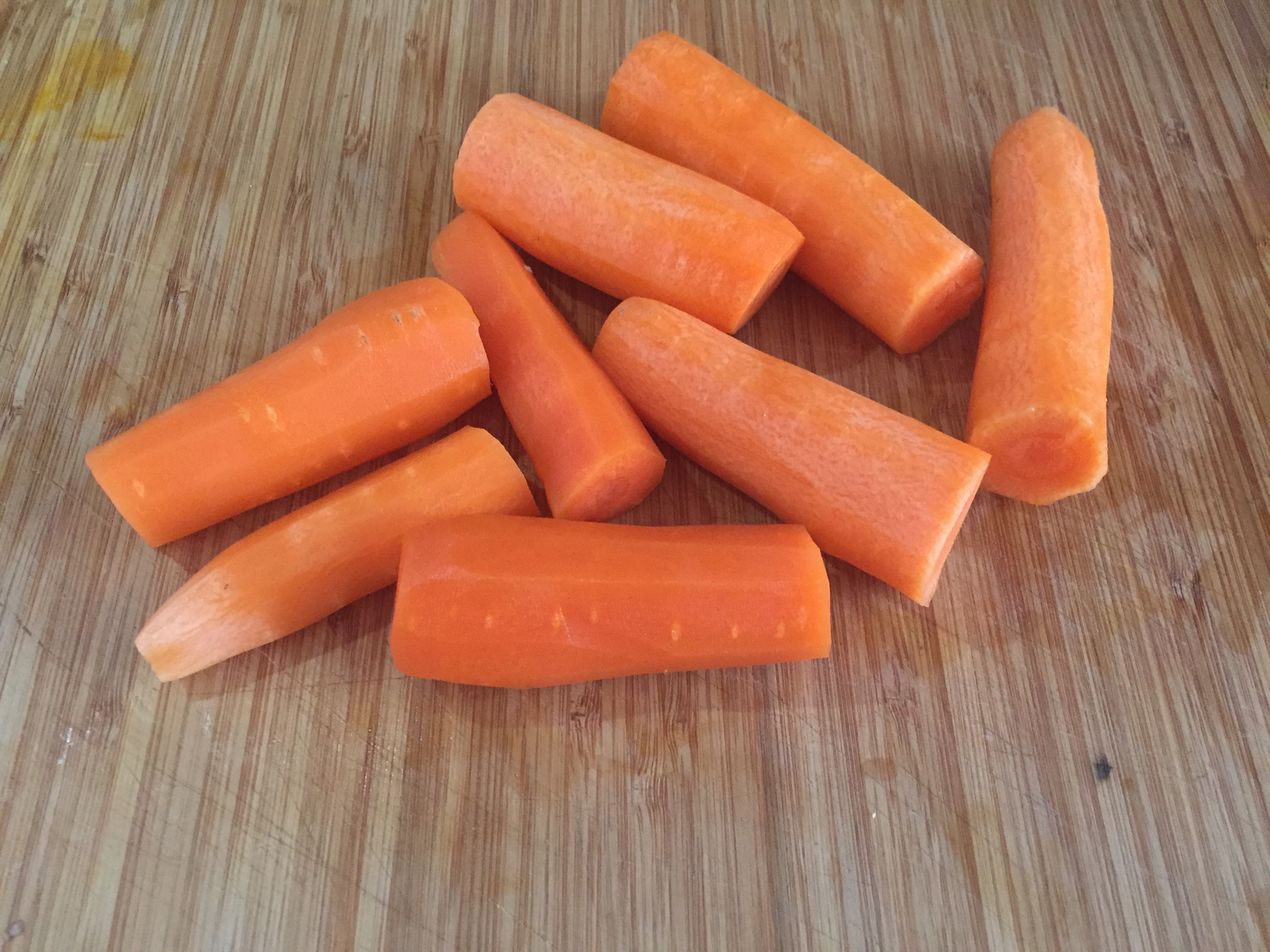 4
Place a pan of slightly salted water on the hob, bring to the boil and add your potatoes and carrots. In a smaller pan, boil your eggs for ten minutes. You need them hard boiled. After 15 minutes, add you peas, and cook for a further 5 minutes.
5
Insert a skewer into your veg to check if they are ready, the skewer should glide in but not crumble your veg. Drain over a colander, and allow to cool until comfortable to the touch. You don't want to burn yourself.
6
While your veg are boiling away, lets make the mayonnaise. Add the two eggs into a deep, clear jug.
7
Gage the volume occupied by your egg, and measure in twice that amount of Olive oil. Add the lemon juice and salt. I tend to use a clear measuring jug, so that I can see quantities.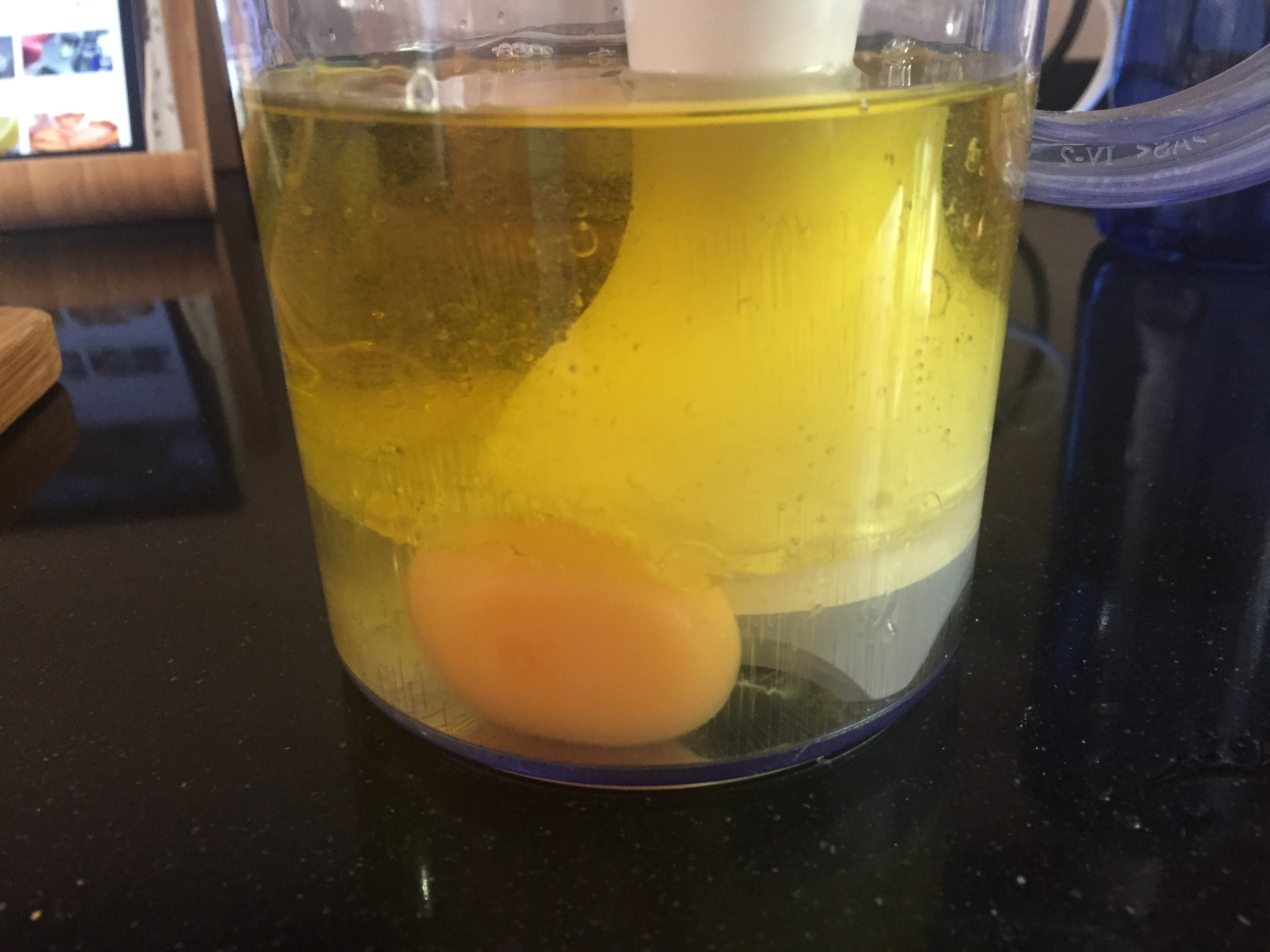 8
Then simply blitz with a hand held immersion blender. Keep the blender at the bottom of the jug for the first 40 seconds and then slowly lift it up until the whole mix is emulsified and thickens. Keep in the fridge until you are ready to use.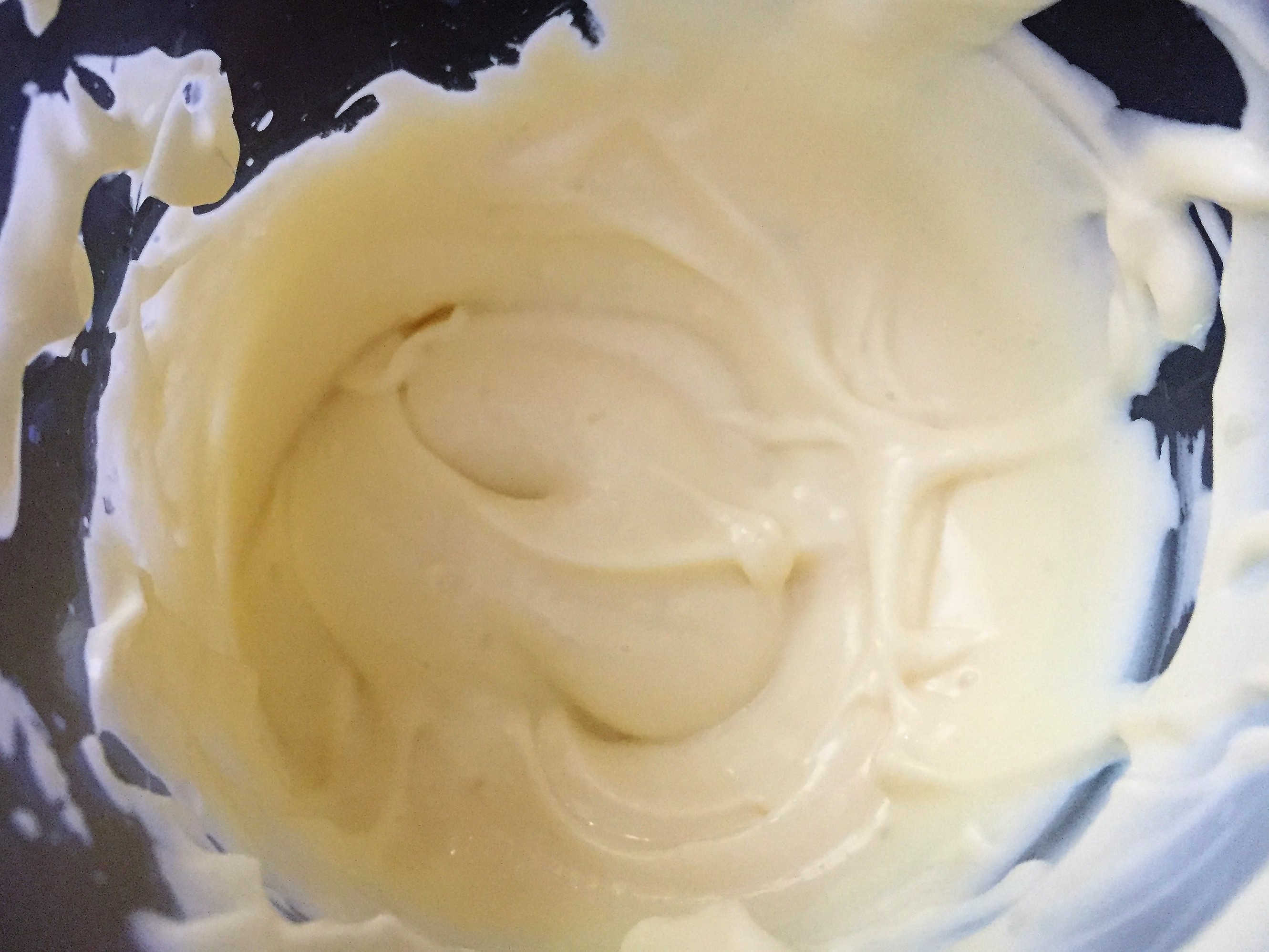 9
Once cool, Dice your potatoes and carrots , into small even squares. Add add in your peas.
10
Dice your eggs into small cubes. I normally use one of those egg cutters, I cut along both lengths of the egg to produce even squares.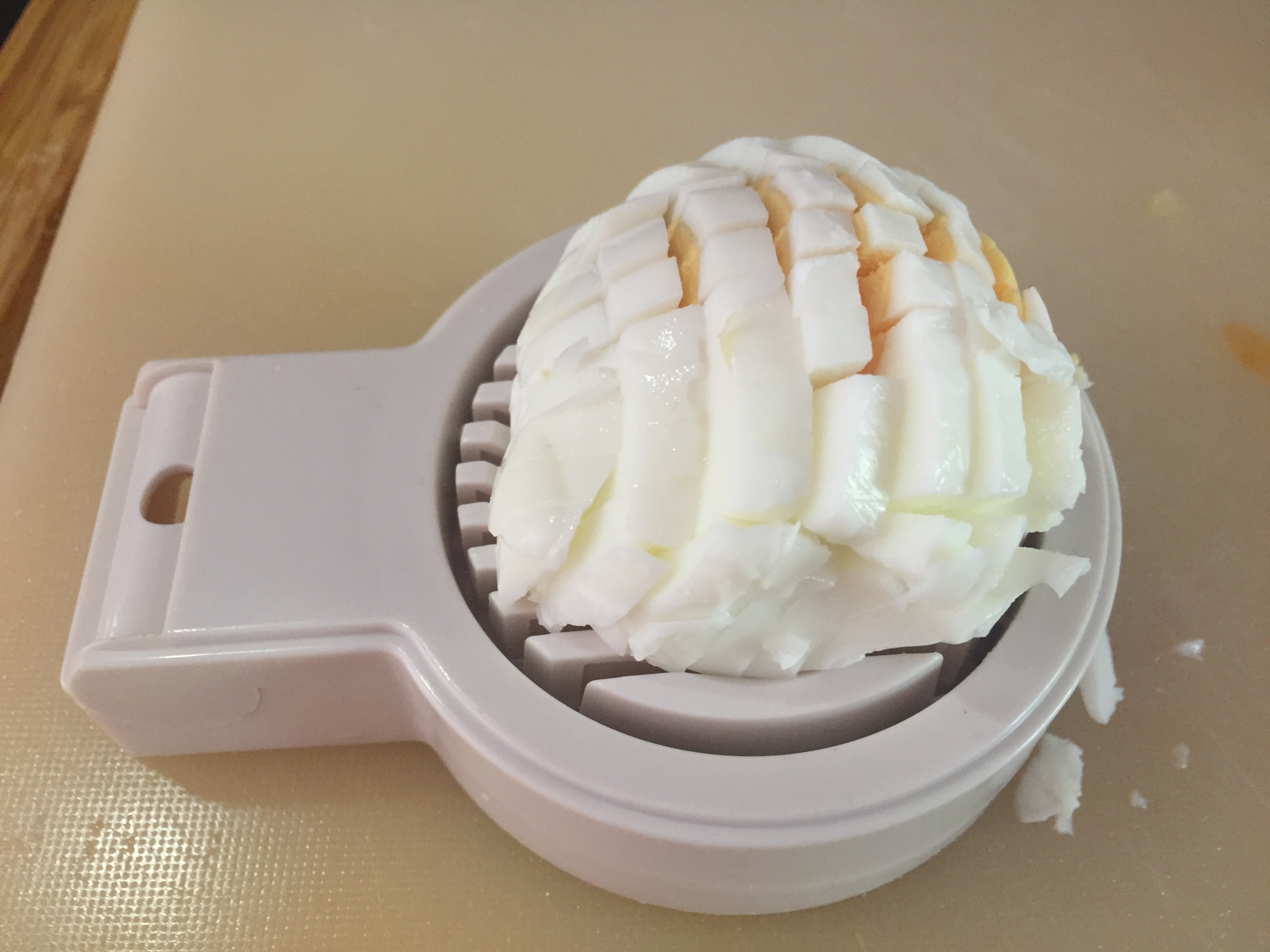 11
Chop your tuna, and halve your olives (if you are using these), and add to the veg mix.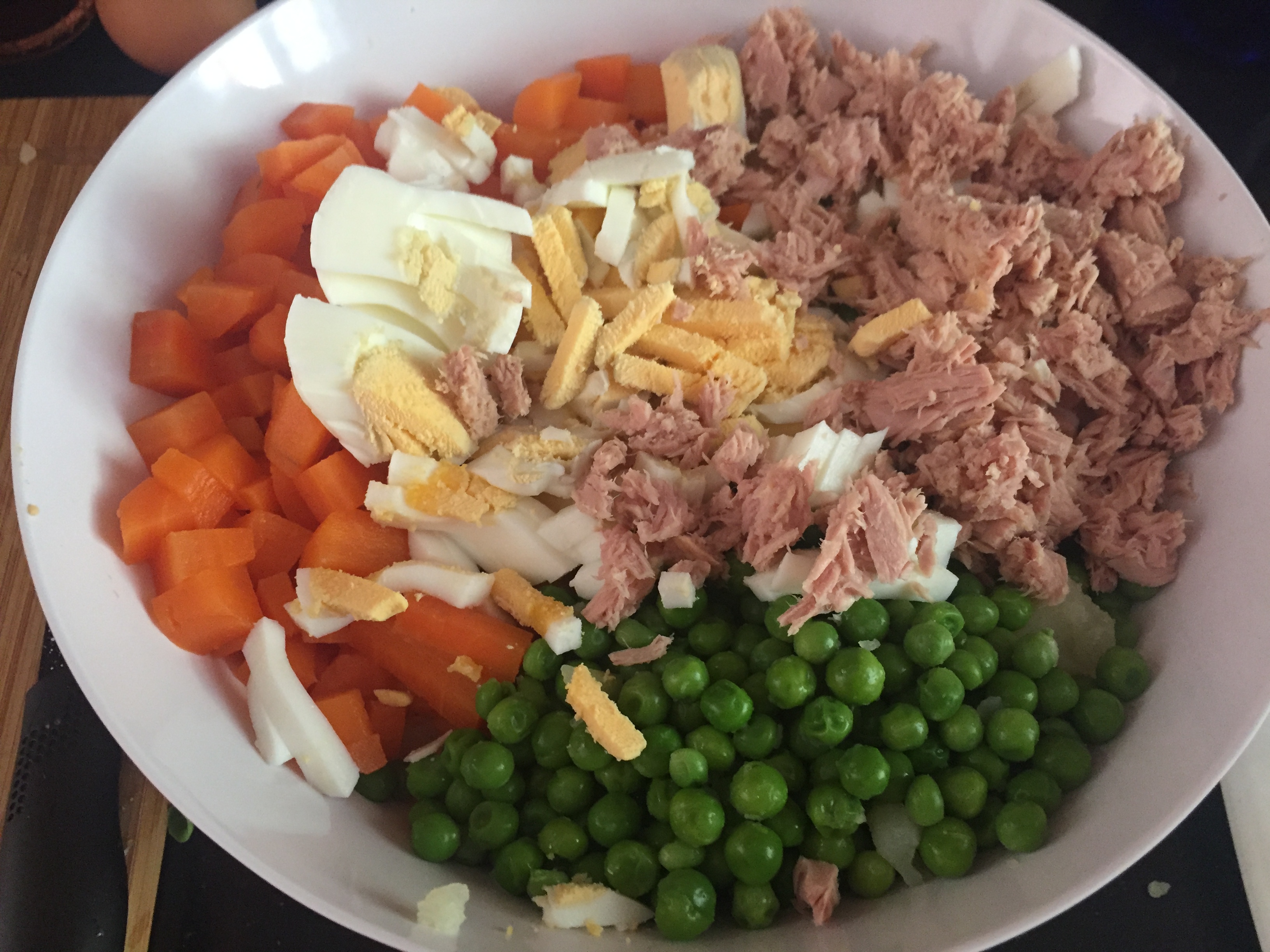 12
Slowly mix in as much of your mayonnaise as you want, although I normally use quite a bit, if not all. Mix in carefully, until all ingredients are coated. Place into a dish, and refrigerate for a couple of hours before serving.
13
Scrumptious Salad, ready to accompany any main meal, brought to you by CosyKitchenCorner