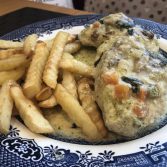 CHICKEN PESTO IN A CREAM SAUCE
Pesto is such an easy and versatile sauce to have in your culinary collection. Simply blitz Basil, Pine nuts, Garlic, Parmesan and oil in a food processor, add  a little lemon juice, adjust seasoning and voila! you have the basis for many a great dish. Add it to some pasta, spoon it over some grilling chicken or meat or use it as a base for your recipe, any way you use it  you will end up with a delicious meal with very little effort.  Best type of meal prep there is!
Of course my Grandmother had a few easy recipes with Pesto in them, but this creamy Chicken Pesto is hands down a restaurant quality dish with the added advantage of only taking forty five minutes to complete, thirty of which you can use as you wish, as the dish is cooked in the oven.
Served with chips, over mashed potatoes or sliced over a bed of fettuccine, the melt in your mouth chicken and creamy sauce will keep your family and friends coming back for more, and will make you the most popular cook in the neighborhood.
Trust me it works! You can all thank me later.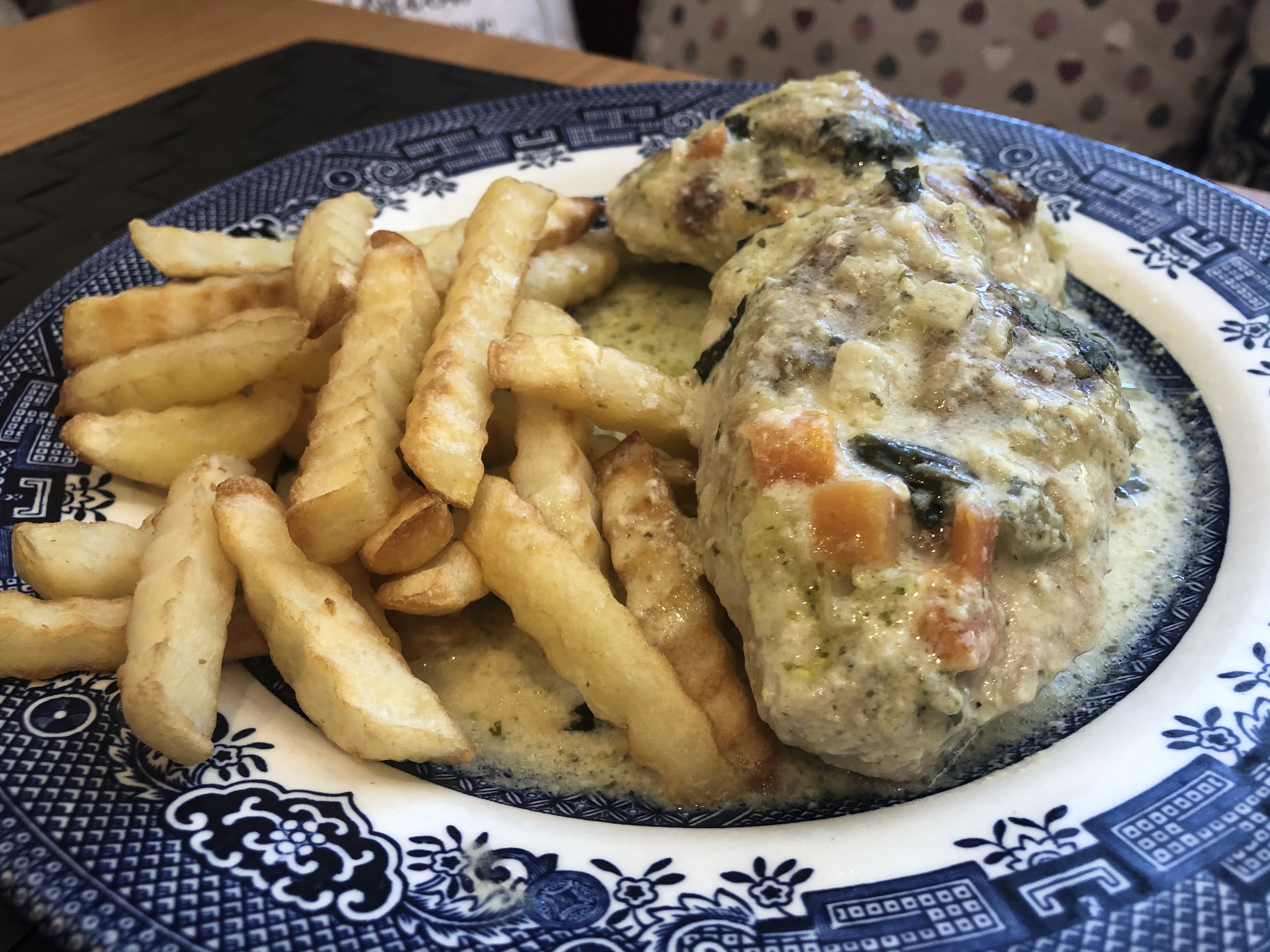 Ingredients
4 medium sized Chicken Breast
2 table spoons Pesto sauce
2 table spoons Olive Oil
200g Cherry Tomato (optional)
250g sliced Mushrooms (optional)
1 white onion diced
1 medium carrot - cleaned and diced
1 celery stick - cleaned and diced
FOR THE SAUCE:
1 Tablespoon Plain Flour
2 Garlic Cloves - thinly diced
1 tablespoon Pesto
200ml Cream - double cream works great here
3 tablespoons Mozzarella - or any melting cheese will do
Ribbons of Basil to garnish
Instructions
1
Pre heat your oven to 200 degrees c
2
Clean the Chicken Breasts. Lightly season with salt and pepper, and rub some of the 2 tablespoons of pesto over both sides of each breast to finely coat them.
3
Heat some Olive oil in a pan, and brown chicken on both sides - the chicken only needs to be browned at this stage as it will finish cooking in the oven.
4
In a bowl add the Flour, Cream, Garlic, 1 tablespoon of Pesto and mix until all the flour is incorporated and you have a smooth paste.
5
Remove browned chicken pieces, and using the same pan add the Onion, Carrot and Celery and saute until it gets some colour. You might need to add a little more oil.
6
Return Chicken to the pan, and pour the sauce over the chicken, stir to mix.
7
If using the cherry tomatoes and mushrooms add them to your pot, and stir to combine well.
8
Top each chicken piece with a little grated mozzarella - or the cheese of your choice.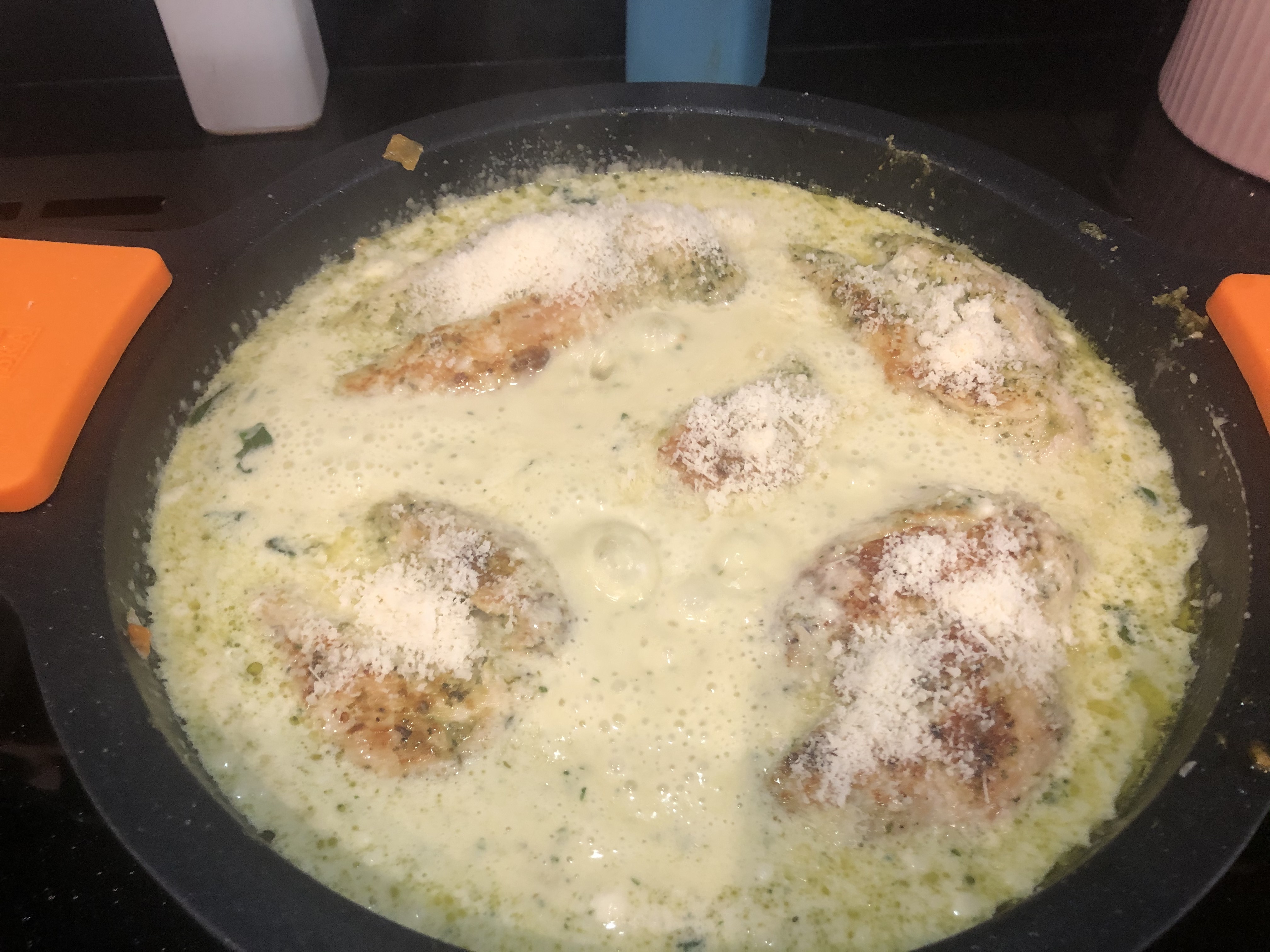 9
Cover the pan with a tight fitting lid - suitable for oven use - or as I do, cover the pan with cooking foil ensuring that you have a good seal.
10
Bake in a preheated oven for 25 - 30 mins.
11
Before serving, garnish with the Basil Ribbons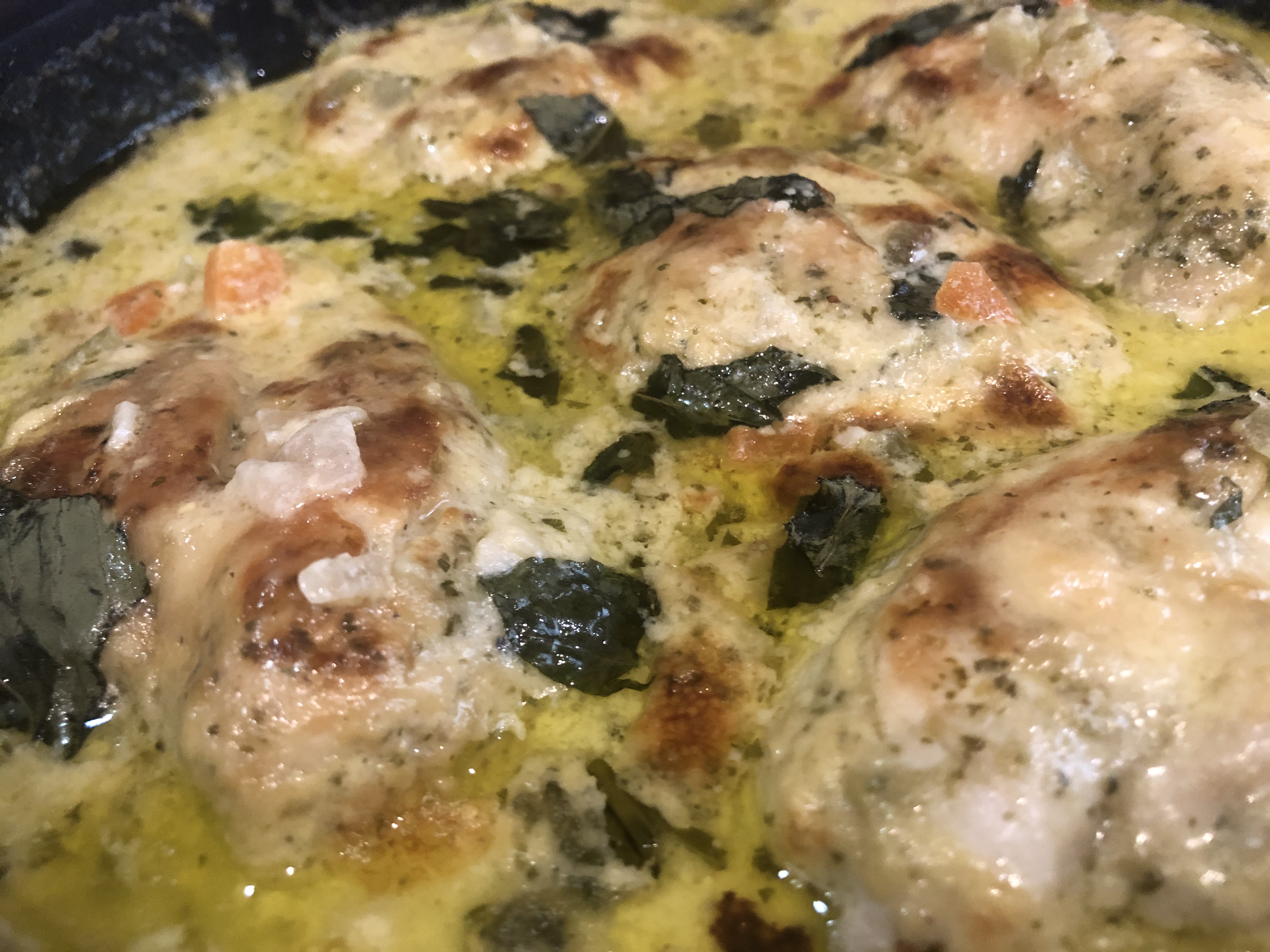 12
Chicken Pesto in a creamy sauce - Yummy. Enjoy