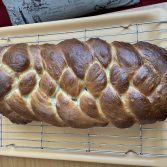 Challah Bread
This is a delicious bread to make, and definitely a showstopper on your table.
My version is a six strand braid but a real easy one to do, I swear, all you have to do is braid consistently and take it nice and slow. You can not go wrong.
As for the taste of this bread, you're in for a treat if your into white slightly sweet soft bread, which make an excellent sandwich base, but is absolutely great toasted or in french toast the next day. Here in Gibraltar, I like to use any leftover to make traditional bread pudding, so so good with this loaf.
Give this a try , you won't be disappointed.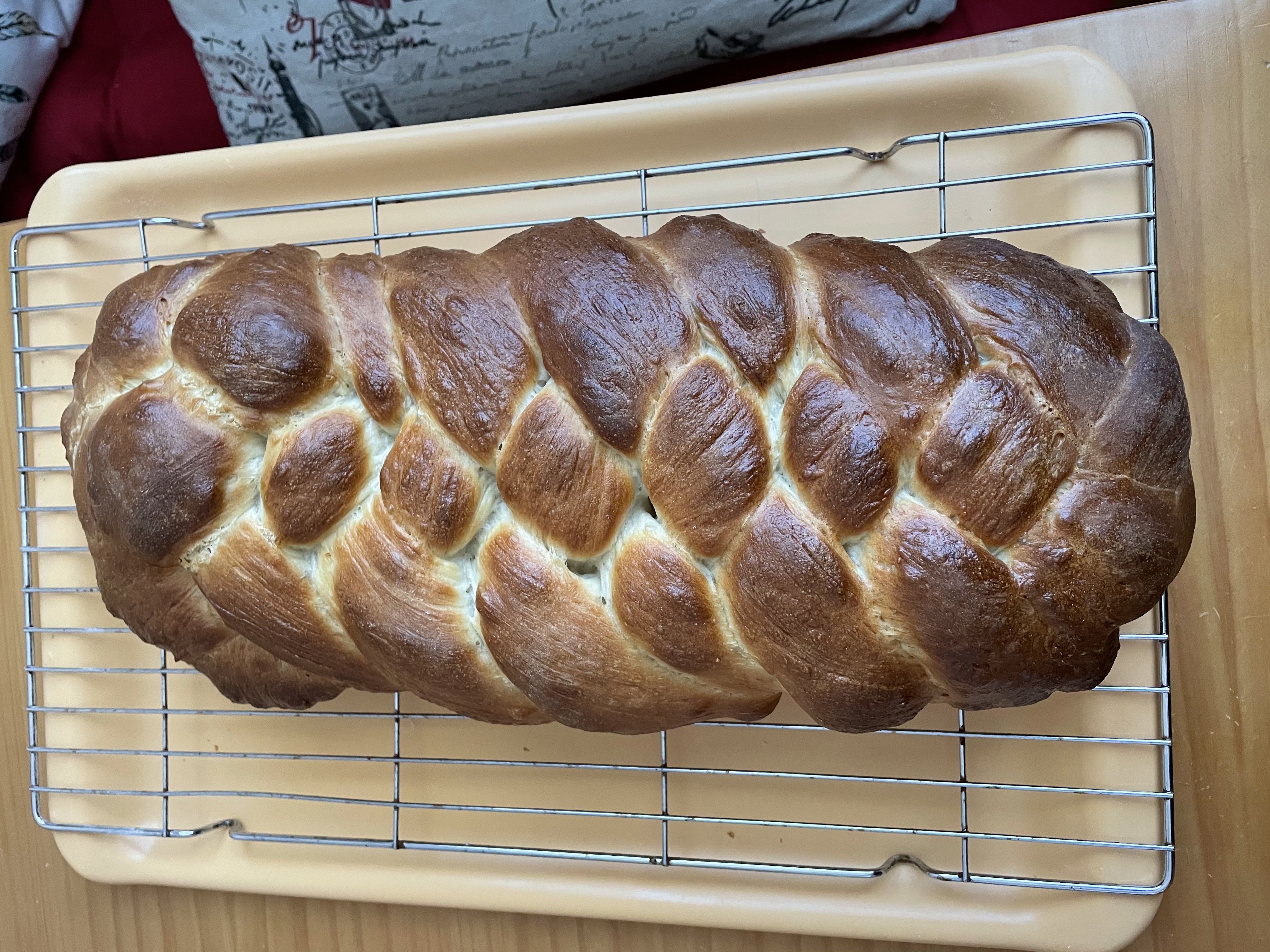 Ingredients
236 ml- 1 cup warm water. WARM not hot
25g fresh yeast or 1 sachet instant yeast (7g)
610g Plain Flour (4 1/2 cups)
50g Granulated sugar
2 teaspoons salt
2 large eggs and 1 egg yolk ( reserve the extra egg white for the final wash)
56 g Vegetable Oil
Instructions
1
Dissolve yeast in warm water with one tablespoon of the sugar- allow it to prove for 5-10 minutes
2
Place the flour, salt and sugar in the bowl of a mixer and with the dough hook mix to incorporate.
3
Place the eggs and egg yolk and oil in the mixer bowl and mix to incorporate. It should resemble a slurry paste.
4
Pour the yeast mix into the bowl, mix to incorporate at a medium speed, then slowly increase to medium high and knead for 6-8 minutes. If the dough seems very sticky add a tablespoon of flour at a time until it feels tacky but no longer bubblegum sticky. The dough is ready when it is soft, smooth and holds a ball shape.
5
Place dough in an oiled bowl and let t rise for 1 1/2 -2 hours. I usually cover the bowl with cling film and a tea towel and place it inside my microwave oven which is cool draft free place.
6
Once the dough has rested and risen , turn it out into a floured work surface and cut it into six equal pieces. Roll the pieces out into long sausage pieces of equal length and width. You need to end up with 6 equal pieces of dough rope. I usually make mine around 25 cms long.
7
Place the 6 strands side by side and gently pinch the top of the ropes to stick together. Now starting with the right outermost strand pick it up and move it over the first two strand then under the next strand and over the next two strands. Make sure the braid is tight. Continue this way taking the right outermost strand and braid as above. Squeeze the end pieces together. Fluff out the braid pieces a bit to equalise them and then place on a greaseproof papered baking tray cover with cling film and a tea towel and allow to proof for a further 1 hour in a draft free surface.
8
Around 40 minutes into the final proof, pre heat your oven to 180 C.
9
Whisk the remaking egg white with a little water, and before baking brush bread with this mix. Cover all over including sides etc.
10
Bake your bread for 30-35 minutes turning half way through.
11
Allow to cool, on a cooling rack.
12
Lovely Challah bread, CosyKitchenCorner style